2021 Hieronymus Cup Matches
October 2-3
Algonquin Golf Course
St Louis, MO
2021 Team Captains
West: Jamie Hathcock Senior Captain: Ron Eilers
East: Ryan Eckelkamp Senior Captain: Don Dupske
ELIGIBILITY
All Players selected to be a part of the Hieronymus Cup Teams must be a current member of the Missouri Golf Association.
Members of each team are selected by points earned in the Point Events.
Go to Player Standings page for the points allocation table or click here.
There are two Divisions regular and senior (50+) within each Cup Team
Cup Match Teams: (collegiate players are not eligible)
20 players represent the East side
20 players represent the West side.
The 20 players from each side are chosen by:
>8 of the top 20 are chosen from the current year Cup Team point standings
>8 of the top 20 are chosen from the current year Senior Cup Team point standings
>The remaining 4 are chosen by the Captains
2 from the championship division and 2 from the senior division
The Hieronymus Cup Match History Score Board can be found on the History Page
Example – how cup team points are allocated:
If a player from the West side finishes in third place he will receive the third place points from the Player of the Year points. He will then receive points based on where he finished against the other West side players. So then in return if he was the top finisher out of all the West players in the field then he would receive first place points for the West in the Cup Team Points Category.
So in this example, if the players from the East finished in first and second place then the player from the West gets the first place points for finishing first on his team.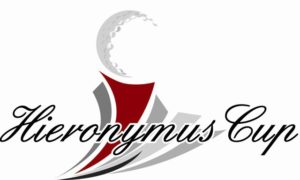 Schedule of Events
Friday, October 1
Practice Rounds
Saturday, October 2
Four Ball Matches
Starting at 8 a.m.
PM Alternate Shot Matches
Sunday, October 3
Single Matches
Starting at 8 a.m.
MEMBERSHIP / ENTRY FEE
Have to be a current member of the MGA
Entry Fee $100
Entry Fee Includes: team attire, social events, luncheons, and 4 rounds of golf.