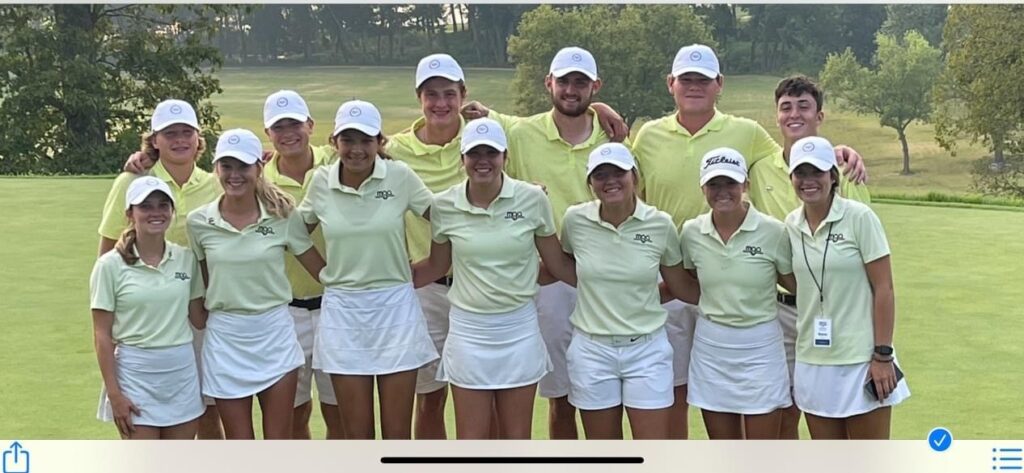 Back row (l to r) Jonathan Jordan, Aiden Asby, Christian Rischer, Dylan Comstack, Aiden Wells and Brooks Baldwin
Front row (l to r) Kyleigh Pfitzinger, Ella Overstreet, Lyla Louderbaugh, Audrey Rischer, Bailey Burkett, Kaydia Rhodes and MGA Boatwright Intern Reese Hamilton
DAY 1 RECAP
ROGERS, ARK. – Team Missouri positioned itself into a tie for second place following the two-round first day of the 2021 Southern Junior Cup at Shadow Creek Golf Club in Rogers, Arkansas, Monday.
During the first round of mixed fourball, half of Missouri's six teams took victories while one finished tied, giving the squad 3.5 points for the round. In the foursome round during the afternoon, team Missouri again won three of its matches for 3.0 points.
For Tuesday's single match tee times, visit this link:
Here
.
For the results from each round and the team scores, visit this link:
Here
.
Visit the Missouri Golf Association online at MoGolf.org and follow on social media @MissouriGolf.
DAY 2 RECAP
ROGERS, Ark. — The juniors competing for Missouri at the 2021 Southern Junior Cup finished third against stout competition from teams representing Arkansas, Alabama and Mississippi. The team finished third with 14 points, 1.5 points behind the winner.
In the third and final round of competition on Tuesday, Missouri went 8-for-12 on singles match wins. Audrey Rischer won by the largest margin of victory of the entire field, taking down her competitor 7 & 5. Lyla Louderbaugh, Christian Rischer, Ella Overstreet, Kaydi Rhodes, Dylan Comstock, Aiden Wells and Brooks Baldwin also took home victories.
Despite closing the gap, the team was unable to overcome the deficit that was mounted after the first two rounds of competition, having finished behind the leader Alabama by two points following the four ball and foursome matches on Monday.
For results from the tournament, visit the link:
here
.
For photos from the tournament, visit the link:
here
.