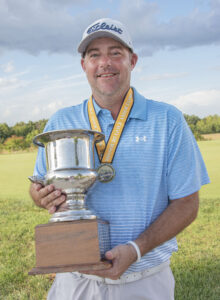 August 30, 2021 Chad Niezing, Manchester wins the 27th Annual Mid-Amateur Championship with a 36 hole round -7 par. Runner-Up Doug Albers finished at -3 and Chris Kovach, St Louis and Adam Pfeiffer finished tied for third at -2 par.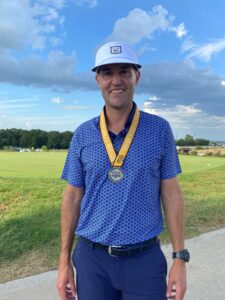 Doug Albers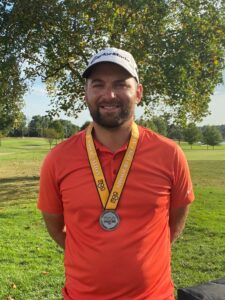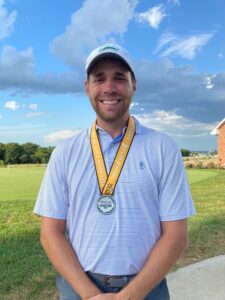 JCCC Memorial Senior Division was won by Ed Brown, Independence (pictured below) with a a very consistent 36 hole round 72/72. Runner-Up Scott Brown Fredricktown finished at +2 75/71 and Brian Lovett, Ballwin finished 3rd at 73/74 +3.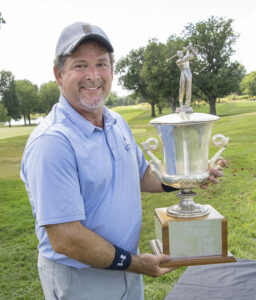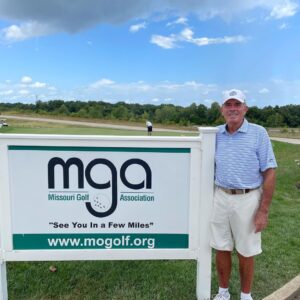 JCCC Memorial Super Senior Division was won by A.J. Kroeger, Jefferson City (above) +5 74/75.
August 26, 2021 The 27th Missouri Mid-Amateur Championship will be held at The Jefferson City Country Club Saturday, August 28 and Sunday, August 29th.
From the black tees, the course will play 6985 yards for a par-72 for the Championship division. The JCCC Memorial Senior division will play from 6513 yards and the Super Senior 5940.
There are many past champions of the Mid-Amateur playing in the field over the weekend.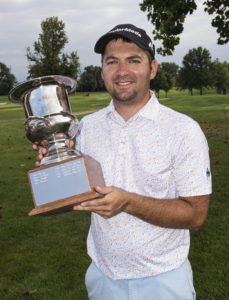 Adam Pfeiffer (2020 champion left) had won his first Mid-Amateur in 2018 will be defending his title again in 2021. Other past champions in the field are Chris Kovach (2019) Ryan Eckelkamp (2017) Chad Niezing (2016) Doug Albers (2012) Skip Berkmeyer (2000, 2002, 2003). Steve Groom (2001) Wayne Fredrick (2007) Brian Haskell (2008, 2009) and Harry Roberts (2010) will be competing in the JCCC Memorial. More History here by Jack Garvin
Following the first round of the Mid-Amateur, the Missouri Golf Association will be inducting three gentlemen into the Hall of Fame. Those inductees include Scott Thomas, the 1995 Mid Amateur Champion.
Scott Thomas, 62, of St. Louis has won the Missouri Amateur, Mid-Amateur and Senior Amateur. He qualified for six U.S. Mid-Amateurs, four U.S. Amateurs, a U.S. Senior Amateur and a U.S. Amateur Public Links. Scott twice won the Ozark Invitational in Poplar Bluff. He also played in the British Amateur six times. 1990 Muirfield, 1992 Carnoustie, 1994 Nairn, 1996 Turnberry, 1997 Royal St Goerges and 1998 Muirfield
Jack Garvin, 76, is a Jefferson City native but has lived in the Kansas City area since 1970. He played in 23 Missou­ri Amateurs and has officiated at MGA events for 25 years. Jack has written twelve books on Missouri amateur athletic histories, including the Missouri men's and women's Amateurs.
Dennis Goettel, 66, is a Joplin native but has lived in Columbia for the past forty years. He was runner-up in 1976 before winning the Missouri Amateur in 1977. He qualified for two U.S. Amateurs and one U.S. Open. Dennis was the Gateway PGA Section Teacher of the Year in 2006. He is already in the Joplin and Columbia Golf Halls of Fame.