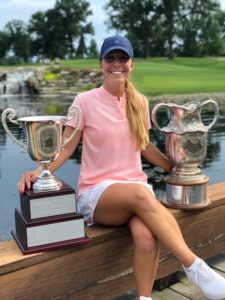 Michelle Parrish will be joining us for the 2021 season as our Junior Golf Director! You may know her better as Michelle Butler – the one who won the 2019 MGA Amateur and Mid -Amateur at Bogey Hills CC. We are thrilled that she has accepted this position and we know our junior members will be too. When you see Michelle this summer introduce yourself and welcome her to the program.
Parrish is currently in her 4th season as the Assistant Men's and Women's golf coach at Columbia College where she has been integral part of both team's successes. Over the last 4 years she has helped the men's program break into the top 25 in the NAIA rankings, and helped the women to a top 50 ranking. Prior to coaching at Columbia College, Parrish was a standout golfer for the University of Missouri. She competed for the Tigers from 2011-2016. Parrish concluded her career at Mizzou with the lowest season stroke average in program history, at 72.50, while earning SEC Second Team All-Conference honors. She recorded 4 runner-up finishes her senior year, while leading the team to NCAA Regionals at Shoal Creek. One of her runner-up finishes included Mizzou's home tournament, The Johnnie Imes, where she fired the 2nd lowest 54-hole total in program history at 9 under par. Parrish holds the lowest 18-hole round in program history with a 65, 7 under par. While Parrish was at Mizzou, she earned the N4A Wilma Rudolph Student Athlete Achievement Award and was a finalist for the 2016 NCAA Woman of the Year Award.
Parrish still competes in high level amateur tournaments. In 2018, she made it to the semifinals of the 32nd US Women's Mid-Amateur Championship at Norwood Hills, where she lost to eventual champion, Shannon Johnson. In her 2019 run in the 33rd US Women's Mid-Amateur Championship, Parrish finished 2nd in the stroke play portion with a 2-day total of 2 under par. She made it to the quarterfinals, where she lost to future champion, Ina Kim-Schaad. In the summer of 2019, Parrish won the Missouri Women's Amateur Championship and the Missouri Women's Mid-Amateur Championship. She was later named the 2019 Missouri Golf Association Player of the Year and was also named to the 2018 and 2019 Global Golf Post First Team Women's Mid-Amateur. In 2020, Parrish earned the WIN for Columbia Gladys Stankowski Sportswoman of the Year honor.