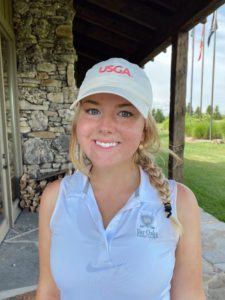 Congratulations Taryn Overstreet – Jackson MGA Junior Player of the Year
We all enjoy to watch Taryn compete. We have watched her from a very young age along with her siblings, Sarah Bell (20), Ella (16) and Anna (10) who are also no strangers to MGA competitions. Taryn recently graduated from Jackson High School and plans to attend Drury University in Springfield where she will be a part of the golf team. Her best year yet started out with a bang when she won the Junior Match Play Championship at Silo Ridge Golf Course in Boliver. She competed in the final match against her sister Ella. With that win she qualified to compete in the 52nd annual Junior Four State Team Championship at the Country Club of Missouri in June where she won all of her matches. In July she played two great rounds 72/74 146 to win the MGA 36th Junior Amateur Championship at Mules National Golf Course in Warrensburg. Again it was fun to watch because she was competing again against her sister Ella who finished one shot behind her 76/71 147.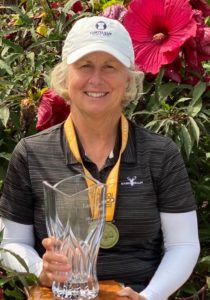 Congratulations Ellen Port- St Louis MGA Senior Player of the Year (2019 and 2020)
At age 59, Ellen shows she can compete against some of the top players in the State. She finished tied for 6th in the MGA Amateur along side nineteen year old (19) Sarah Bell of Jackson. Her three round total was 3 over par 74/74/69 -216. That score was also good enough for her to finish 3rd in the Mid-Amateur (25+) Championship division behind Michele Butler, Columbia 74/73/66 -213 (2019 POY) and Jess Meek, Columbia 70/71/68 -209 (2020 POY) . Ellen's best finish this year was at the MGA Senior Amateur at Sedalia Country Club. Her impressive final score was -7 under par 65/68 -133. This was Ports first time competing in the MGA Senior Amateur as she usually competes in the USGA Women's Senior Amateur this time of the year. That event was canceled in 2020 due to health concerns stemming from the COVID-19 pandemic. Ellen is a member of the MGA Hall of Fame along with the St Louis Hall of Fame.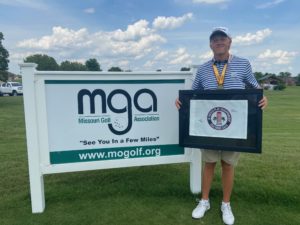 Congratulations Dawson Meek – Ozark MGA Junior Player of the Year
Dawson Meek's played in his final junior event in 2020. Meek graduated from Glendale High School and is now a member of the Mizzou Golf Team. Dawson's 2020 season started when he qualified at Millwood Golf & RC (+1) to compete in the 113th MGA Amateur Championship. He went on to win the MGA Junior Match Play at Mules National Golf Course in Warrensburg where he came from behind to win the match against Christian Rischer of Columbia. He also had a very good finish in the Men's Stroke Play at Norwood Hills CC where he finished T-15th
Match Play Results:
Round of 16 Meek over Jonathan Jordan, Rolla 2 & 1
Quarterfinal Meek over Jack Guyot, Chesterfield 4 & 2
Semifinal Meek over Kanon Kendrick, Shelbina 2 & 1
Final Meek over Christian Rischer, Columbia 1 Up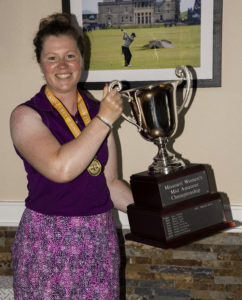 Congratulations Jess Meek – Columbia MGA Player of the Year
Jess Meek not a stranger to Missouri golf has had another successful year. Meek is a 2017 graduate of Univ. of Missouri and past member of the Mizzou Tigers golf team. Meek has won her second MGA major title, her first win was the Women's Amateur in 2017. She won the 2020 Mid-Amateur Championship at The Club at Old Kinderhook, Camdenton by four strokes 70/71/68 -4 over 2019 champion Michelle Butler 74/73/66 -Even. She finished 3rd in the Amateur division behind Abby Glenn, Topeka, KS and Brooke Biermann, Wildwood, MO.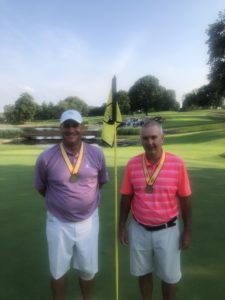 Congratulations Wayne Fredrick – Springfield MGA Senior Player of the Year (2019-2020)
Fredrick is the Senior Player of the Year again in 2020! He won the Men's Senior Four Ball Championship ( 67/65 -10) at Bogey Hills CC in St Charles with his playing partner Brian Haskell, St Joseph. Fredrick, a past Amateur Champion (1996) gets a life time exemption for playing in the Amateur. 58 year old, Fredrick shot an impressive 36 hole score 73/75 to qualify for the round of 64 when he lost 5 & 4 against Curtis Brokenbrow (24) of St Louis. In September he tried again to win the Senior Amateur Championship 70/73 143 but came up short to finish in T-2.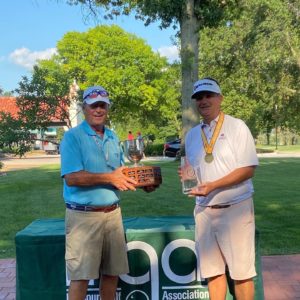 Congratulations Skip Berkmeyer – Town & Country MGA Player of the Year (this is his sixth time)
As most of you well know, Skip has a very strong successful history competing in MGA events, and this year is no different.
In May he and his partner Hunter Parrish, Columbia won the Jefferson City CC Four Ball in a playoff against Wayne Fredrick/Kory Bowman and Brad Nurski/Matt Thrasher.
Berkmeyer, a past Amateur Champion (1999, 2009, 2011 and two time runner up 1998, 2008, 2012) gets a life time exemption for playing in the Amateur. He still has it! He made it to the semifinals when he lost in a match to Maxwell Kreikemeier, Chesterfield 4 & 2.
He won the MGA Stroke Play Championship for the third time! (2013 and 2016) In July, and during the pandemic a field of 156 amateurs traveled to Norwood Hills CC in St Louis for a 72 hole stroke play event. Skip won (68/71/69/63 271) by 4 shots over Ryan Sullivan, Arnold.
Then his final MGA point competition of the season he finished T-4 in the Mid-Amateur Championship at Jefferson City CC with Brad Nurski, St. Joseph and Corey Choate, Eureka. Two-time champion Adam Pfeiffer (2018) won with a score of -9 under par. Berkmeyer has won the Mid-Amateur a total of three times (2000, 2002, 2003)
Berkmeyer has a couple years yet to play in the Amateurs before he starts playing in the Senior events. We can't wait!