Missouri Four Ball Championship
August 15-16
Crown Pointe Golf Complex
4245 Hunt Rd
Farmington, MO 63640
Niezing wins again with new partner but old friend, Sam Migdal!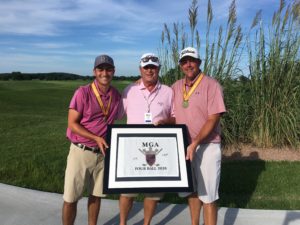 The Net Division Champions was the team of Matt Besserman and Keith Quigley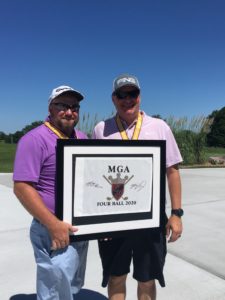 The Missouri Golf Association is proud to host the 31st annual Men's Four Ball Championship at Crown Pointe in Farmington, MO on August 15-16. This is the first time this event will take place at Crown Pointe.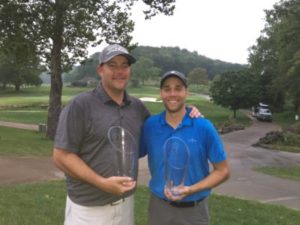 At St. Albans in 2019, Chad Niezing (St. Louis) and ChrisKovach (St. Louis) took home championship honors (pictured left). Recent champions returning to the 2020 field are Kory Franks (Jefferson City) and Brad Carpenter (Washington) who won in 2017. Brian Haskell (St. Joseph) in 2016, and Tyler Stalker (Springfield) and Travis Mitchell (Rogersville) in 2015.
The 2020 field will consist of 80 teams. The tournament will kick off with a practice round on Friday, August 14th. The first round of 18 holes Best Ball will be played on Saturday, August 15th followed by the second round of 18 hole Best Ball on Sunday, August 16th. There will be two flights; the Championship and Net Divisions.
To stay up-to-date on all the action at the 2019 Missouri Four Ball Championship, follow
@MissouriGolf on social media! Live scoring will be available for the Championship division. This
can be found on our website, Mogolf.org.
The Missouri Golf Association is a non-profit organization whose purpose is to promote the best
interests and true spirit of the game of golf throughout the State of Missouri. The MGA conducts
several statewide championships each year, including the Four Ball Championship. The MGA
distributes an annual schedule of tournament events and entry forms for each event, provides advice
and information for golf, handicap and rules chairpersons, and provides educational seminars.