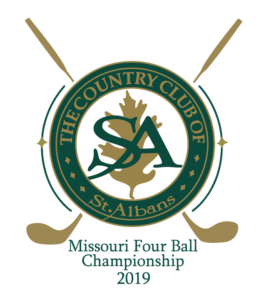 30th Annual Missouri Four Ball Championship
August 10-11
CC at St. Albans
3165 St. Albans Rd
St. Albans, MO 63073
636-458-3060
ELIGIBILITY
Entries are open to male amateur golfers who play at clubs or courses who are members of the Missouri Golf Association.
MEMBERSHIP/ENTRY FEES
$35 Membership Fee per player
Entry Fee $400 a team.
Entry fee includes
>a practice round the day before the tournament
>the Championship rounds
>cart fees for the Championship rounds only
>range balls for three days.
REFUNDS
Cancellations before the close of entries will be refunded less a $30 fee. No refunds after the deadline date.
SCHEDULE
The field will consist of 84 Teams.
Play will be on the both golf courses
Tavern Creek and the Lewis and Clark
Stroke Play – 36 holes
Friday – August 9
Practice Round
Saturday – August 10
First round, 18 holes Best Ball
Sunday – August 11
Second round, 18 holes Best Ball
FLIGHTS
Championship – Scratch Score (6900 yards)
Net (Handicap) – Verified handicaps only (both players)
PRIZES
Pro Shop Certificates will be awarded.