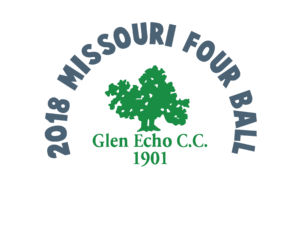 29th Annual Missouri Four Ball Championship
July 30-31
Glen Echo Country Club
3401 Lucas and Hunt Rd
St Louis, MO 63121
314-382-5780
COURSE SET-UP
Net Flight 6106 yards White Tees
Open Flight 6460 yards Blue Tees
ELIGIBILITY
Entries are open to male amateur golfers who play at clubs or courses who are members of the Missouri Golf Association.
MEMBERSHIP/ENTRY FEES
$35 Membership Fee per player
Entry Fee $400 a team.
Entry fee includes
>a practice round the day before the tournament
>the Championship rounds
>cart fees for the Championship rounds only
>range balls for three days.
REFUNDS
Cancellations before the close of entries will be refunded less a $30 fee. No refunds after the deadline date.
SCHEDULE
The field will consist of 84 Teams.
Stroke Play – 36 holes
Sunday – July 29
Practice Round
Monday – July 30
First round, 18 holes Best Ball
Tuesday – July 31
Second round, 18 holes Best Ball
FLIGHTS
Championship – Scratch Score (6900 yards)
Net (Handicap) – Verified handicaps only (both players)
PRIZES
Pro Shop Certificates will be awarded.