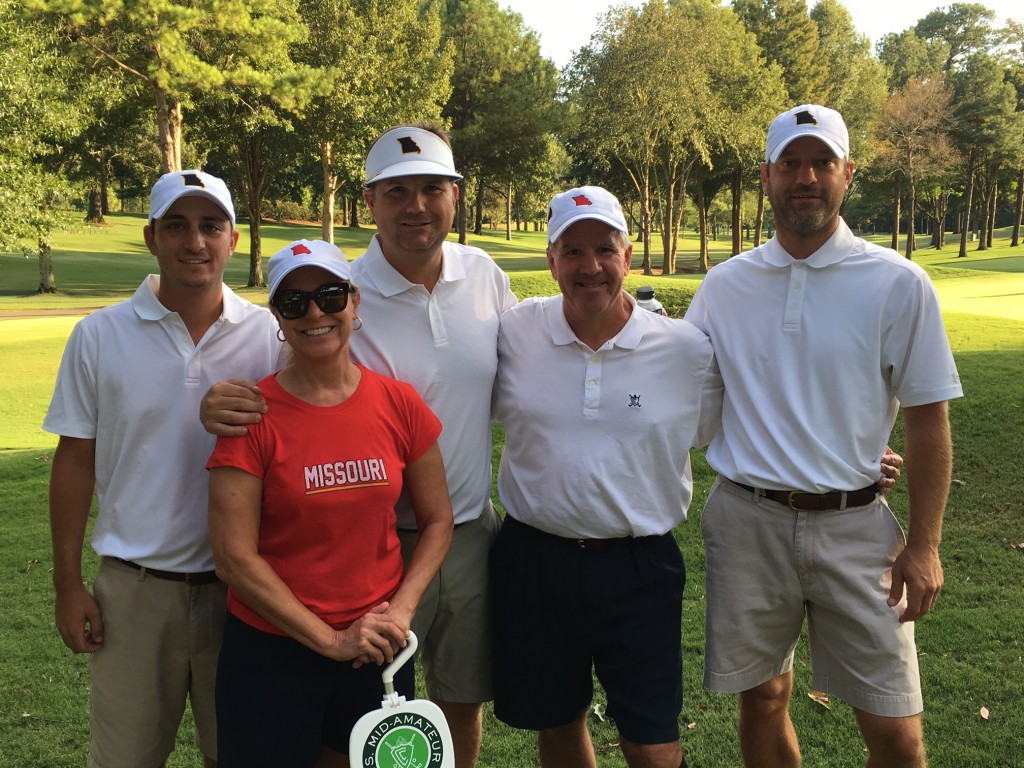 Team Missouri finishes in 14th!
SEPT 28-30, 2016 Team Missouri with their host family!
USGA State Team SCORING SITE
Skip Berkmeyer, Wildwood,  Sam Migdal, Ballwin  and Brad Nurski, St. Joseph
USGA State Team Championship
Jefferson City, MO – August 17, 2016 — The 2016 USGA State Team Championship will be played September 28-30th at the Country Club of Birmingham (West Course), in Birmingham, Alabama. The course opened in 1926, and has hosted other USGA events including the 2013 United States Mid-Amateur Championship.
The field will consist of teams from all fifty states, the District of Columbia, and Puerto Rico. Each state is able to field a team of no more than three players.  There will be three rounds of stroke play during the course of the championship, with the two lowest scores of each team being counted towards the overall team daily score. In 2014, Texas took home the title defeating Florida by just three strokes. In 2012, Missouri finished tenth.
This year, team Missouri will be comprised of three extremely talented individuals. Brad Nurski, Skip Berkmeyer, and Sam Migdal will represent Missouri in event.
Brad Nurski, St. Joseph, was not only the Missouri Golf Association's Player of the Year in 2014 and 2015, but is also coming off a win in the 2016 Missouri Four Ball Championship with partner Brian Haskell. Nurski was runner-up in the 2014 United States Mid-Amateur Championship, winning five matches before being defeated in the final. Additionally, Nurski reached the second stage of U.S. Open qualification that same year. Nurski won the 2010 Missouri Amateur Championship at Twin Oaks, defeating Matt Miller 2UP. This will be Nurski's fourth time representing Missouri in the USGA State Team Championship, and his tenth USGA Championship appearance in total.
Skip Berkmeyer, Wildwood, also has an extensive golf resume. Berkmeyer was crowned Missouri Amateur Champion in 1999, 2009, and 2011. This year Berkmeyer won the Missouri Stroke Play Championship at Dalhousie Golf Club, defeating Travis Mays on the second playoff hole. Berkmeyer has played in twenty-eight USGA sanctioned events throughout his career.
Sam Migdal, Ballwin, rounds out this year's team. In June, Migdal captured the 2016 Missouri Amateur Championship at Jefferson City Country Club defeating Hunter Parrish 1UP. This summer, Migdal also won the Metropolitan Amateur Golf Association's Old Warson Cup, defeating fellow team member, Skip Berkmeyer, 1UP.  While at Central Missouri University, Migdal capped off an impressive collegiate career by winning the 2015 NCAA Division II Individual Championship. Migdal was also a part of the UCM team that finished third at the team National Championship in 2015. This will be Migdal's first time representing Missouri, and his second USGA Championship in all.
The Missouri Golf Association would like to wish Team Missouri the best of luck in this year's competition. The Missouri Golf Association is a non-profit organization whose purpose is to promote the best interests and true spirit of the game of golf throughout the State of Missouri.
Missouri Golf Association
P.O. Box 104164
Jefferson City, MO 65110
573-636-8994