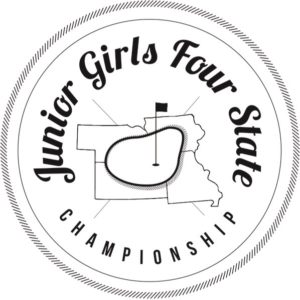 53rd Junior Girls Four State Championship
Kansas, Nebraska, Iowa and Missouri
Match Play format with a Solheim cup like tournament where each team would earn points for matches won
June 29-July 1, 2021
Colbert Hills GC
5200 Colbert Hills Dr
Manhattan, KS
2021 Junior Girl's Fore State Championship – Player Bios
Ella Overstreet (Jackson, MO)
My name is Ella Overstreet, and I am from Jackson, Missouri. I attend Jackson High School and will be a senior this coming fall. I started golfing when I was nine and played local Gateway PGA tournaments. I have been to the state championship three times and during my sophomore year we finished 3rd as a team. Last summer I played in the Missouri Junior Amateur Championship and finished 2nd. Last summer I played in the MGA Junior Match Play Championship, and I lost in the final round to my sister. I am extremely honored and excited to have been invited to play in the Junior Four State Tournament.
Kaydi Rhodes (Jackson, MO)
My name is Kaydi Rhodes, and I am from Jackson, Missouri. I will be a senior at Jackson High School next year. I started golfing when I was 10 and I have loved playing ever since. As a sophomore, I won our district tournament and as a junior I finished second. I have been to state championship twice and my sophomore year our team finished third. I was a member of the 2019 Four State and Southern Cup teams and I'm excited to represent Missouri again this year!
Emree Cameron (Nevada, MO)
I started playing golf when I was 6 years old, and my first tournament was in Miami Florida at Trump Doral. After that, I fell in love with golf. I love golf because of the competition and making new friends all over the world. I have met so many people from golf and I have a very good friend that lives in Africa. I do not play any other sports but have tried and just decided that golf is the perfect fit. I do love working out and it would be a dream of mine to open a gym and train athletes. Working out is one of my passions and I love it every time I step into the gym. I have done a crossfit competition and won. The gym is like my second home and all the people there are like my family. This is why I want to study business as a major and exercise science as a minor when I go to college. I will go to Nevada High School, and I am planning on playing high school golf. I will graduate in 2025. I made it to the Drive Chip and Putt Finals at Augusta National in 2017. I finished 3rd overall, which included a first-place finish in the drive contest. I have also won 60 junior golf tournaments, which includes 6 US Kids State Championships. I have also been named US Kids Player of the year six times and played in their world championship five times. I got my first AJGA top five finish when I was 13 years old. Being on the Four State Team means a lot to me because I will get to compete with girls that normally would be my competition. Representing our state in this type of competition is an honor. I am so excited to go out there and have fun!
Kiser Pannier (Sedalia, MO)
Playing for Team Missouri is an honor and a blessing that I am one of the top golfers and I get the opportunity to represent my home state with other junior golfers like myself. I will be entering my senior year and previously I was the first female athlete to letter in four sports their freshman year which led to earning All-Conference x3 for golf, once for basketball, x2 for soccer. All-District x3 for golf, once for soccer. All-State for Golf as well as being the 2020 MSHSAA Class 3 State Champion. All-Region Class 4 for soccer & All-State Team for soccer. I have also won Athlete of the Week x3 as well. I won the Class 3 State Title, District Championship, and the 2021 NHSGA Pinehurst Invitational. After high school I hope to play on a golf scholarship at any school and pursue a career in the heath field!
Kyleigh Pfitzner (Springfield, MO)
I started playing golf when I was 5 years old. I currently attend Springfield Catholic High School and will graduate in 2022. After high school, my goal is to play college golf. My high school team has won back-to-back State Championships. I have also earned All State Honors the past two years. Being able to represent Team Missouri at the Junior Girl's Fore State championship means so much to me because I have the opportunity to represent Missouri and Southwest Missouri Golf on the national level!
Tierney Baumstark (Columbia, MO)
I started playing golf as something fun to do with my family and it quickly became my favorite thing to do. I'm determined, goal-oriented, and seek out challenges in my life. Golf challenges you every time you play. It develops mental toughness and character, which makes me love the game so much. One of my favorite golf quotes is: "Golf is the closest game to the game we call life. You get bad breaks from good shots, you get good breaks from bad shots, but you have to play the ball where it lies." In 2020, I was the runner-up at the MGA Junior Tour Championship after shooting 78-79. I finished 6th in my division at the Junior amateur Championship. In 2019, I was the MGA Junior Tour Points Champion in the 14-15 age division and placed 3rd in the MJT Championship. I am a member of the Varsity Rock Bridge High School Girls' Golf Team. In 2020, we won the conference championship and the district championship. We placed 4th in the state championship. I placed 25th individually out of 72 players. I earned 2nd Team All-Conference and All District Honors as a sophomore. In 2021, I earned the Rock Bridge High School Rising Bruin Outstanding Sportsmanship Award. My parents and younger sister, Emma, have been so supportive of my golf through the years. I am thrilled to represent Team Missouri at the Fore State Championship this year!