28th Women's Senior Amateur Championship
September 15-16, 2020
Sedalia Country Club
Sedalia, MO 65301
Our senior women had a wonderful time at the Senior Amateur at the Sedalia CC. The players loved the course and enjoyed the beautiful weather
The following was the tournament format:
This is a thirty-six (36) hole, stroke play competition (Gross play). All contestants will compete for the title MGA Women's Senior Amateur Champion. Players that are 65+ will also compete for the title of MGA Women's Super Senior Amateur Champion.
The players will compete in their respective age division
50-54, 55-59, 60-64, 65-69 and 70+
There will also be a two day low NET score in each age division.
NEW WHS -The handicap adjustment percentage of 95.0% is applied
Ellen Port of St Louis was in the lead after round one where she had 6 birdies and one bogey to shoot a 65 -5 under par over Kathy Glennon, Wildwood who also had a great round shooting par on day 1 and 1 over on day 2. Ports second round played a little more difficult for her. She shot 68 -2 under with 3 bogeys and 5 birdies. Congratulations Ellen!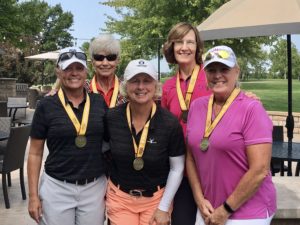 Champions of each division front row Kathy Glennon, Ellen Port and Janis Clemons back row Peg Eddy and Dee Robertson.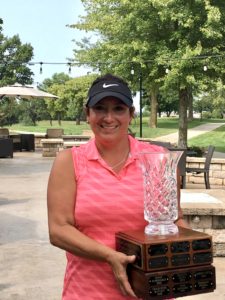 Overall Net division Champion was Deidre Parkinson of Columbia. This was Dee's first MGA event.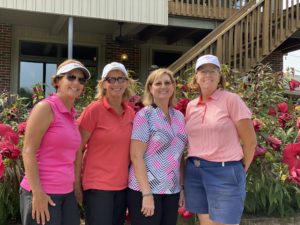 Individual Net division Champions
Please follow the Scoring Link to see full results for the event for all the playing divisions below