Brad Nurski, St. Joseph
MGA Men's Player of the Year, 2019
2019 Record
Missouri Am Stroke Play …….Champion ……………………..(74-64-71-64 – 273)
Missouri Amateur ………………Medalist …………………………(64-71 – 135)
Missouri Amateur ………………Runner-up
Missouri Mid-Amateur ………5th …………………………………(74-69 – 143)
Jefferson City CC Four-Ball…1st (with Mark Thrasher) ..(67-66 – 133)
USGA Mid-Amateur……………Missed Cut ……………………..(77-71 – 148)
Birmingham National Invite..Champion……………………….(70-67-75 – 212)
_____________
Brad Nurski continues to build on his golf career with a brilliant 2019 season. His national rank of #6 and world rank of #11 among Mid-Amateurs was enhanced by his runner-up finish at Hickory Hills in June and his win at Glen Echo in July.
Just to put this all in perspective, since 2006 he has won the Missouri Amateur three times, the Missouri Mid-Am and Stroke Play twice each and was runner-up and medalist at the USGA Mid-Amateur in 2014.
He also partnered with Brian Haskell twice and Mark Korell once to win three Missouri 4-Balls.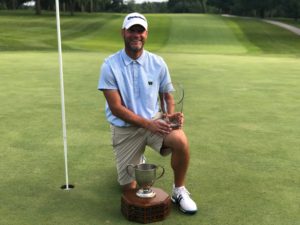 Michelle Butler, Columbia
MGA Women's Player of the Year, 2019
2019 Record
Missouri Women's Amateur…..Champion* (73-73-74 – 220)
Missouri Women's Mid-Am…..Champion (73-73-74 – 220)
US Women's Mid-Am …………..2nd in Qualifiying (71-71 – 142)
US Women's Mid-Am……………Quarterfinals
* – won two hole playoff
____________________
Michelle Butler's wins of the Missouri Amateur and Mid-Am at Bogey Hills on the same day was probably her single most exciting single day of the 2019 season. However, her USGA Women's Mid-Am week was probably a close second. Tied for 2nd in qualifying, she won three matches before bowing out in the quarterfinals at Flagstaff, Ariz.
At the 2018 US Mid-Am she also did well, winning four matches and advancing to the semifinals at Norwood Hills.
Michelle is an assistant golf coach at Columbia College for both the men's and women's teams.
Her career at Mizzou was capped with a record 72.6 scoring average her senior year of 2016. Her best memory of Old Mizzou though, was a team thing. The Tigers shot 39 under for 54 holes at the 2016 Johnie Imes tournament at Old Hawthorne.