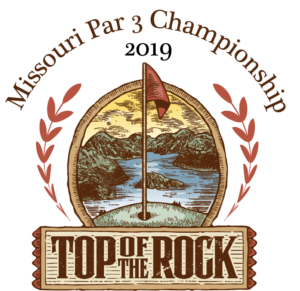 Missouri Par 3 Team Championship
October 5-6
Top of the Rock GC
Par 3 – 9 hole course
150 Top of the Rock Rd
Ridgedale, MO 65739
Mountain Top Course
Par 3 – 13 hole course
1250 Golf Club Dr
Hollister, MO 65672
ELIGIBILITY
Entries are open to female and male amateur golfers who are current members of the MGA and play at clubs who are members of the Missouri Golf Association.
FLIGHTS
(FIRST 44 TEAMS)
Championship Men
Championship Women
Senior Men (both players must be 50+)
Senior Women (both players must be 50+)
Players regardless of age may choose to play in the Championship Flight.
TOURNAMENT FORMAT
This is a 2-person team, best ball event using the Modified Stableford scoring format. (Click here for more info)
Rather than counting the total number of strokes taken as in typical stroke play golf, a Modified Stableford involves scoring points based on the number of strokes taken at each hole. Each team will play the Top of the Rock on Saturday twice and then all teams will play 13 holes on the Mountain Top Course on Sunday.

In our Par 3 Championship the team's lowest score on a hole is utilized to determine their Stableford score for the hole and will reward points accordingly:
+5 for an Eagle
+2 for a birdie
0 for a par
-1 for a Bogey
-3 for a Double Bogey or worse
CARTS
Carts are allowed at Top of the Rock and included in your entry fee. Carts are not allowed at Mountain Top.
SCHEDULE
Saturday – October 5
Top of the Rock, Hollister 9 hole course (play the course twice)
First round, 18 holes
First Wave Tee Times start at 8 AM
Second Wave Tee Times start at 12 PM
Evening reception and putting contest at Mountain Top Course
Sunday – October 6
Mountain Top Course, Ridgedale 13 hole course
Second Round, 13 holes
Tee Times start at 9 AM
Awards Presentation
MEMBERSHIP / ENTRY FEE
Yearly membership fee is $35
Entry Fee: $450
ENTRY FEE INCLUDES
Championship Rounds, Range Balls, Cart fees at Top of the Rock and Saturday evening reception
Mountain Top is a walking-only golf course
ENTRIES/WITHDRAWALS
ENTRY DEADLINE: 7 days prior to the first round
Each applicant must be a current member of the MGA
Each entry application and fee must reach the MGA office in Jefferson City by the entry deadline.
All entries are subject to approval by the Board of Directors of the Missouri Golf Association.
The entry fee will be refunded, less a $30 administrative fee, if withdrawal occurs prior to the entry deadline stated above.