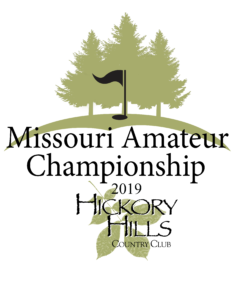 112th Annual Missouri Amateur Championship
June 18-23, 2019
Hickory Hills Country Club
3909 E Farm Rd 136
Springfield, MO 65809
417-869-3878
ELIGIBILITY
Entries are open to male amateur golfers who are current members of the MGA, play at clubs who are members of the Missouri Golf Association with a certified handicap index on the USGA men's handicap system.
Those players not on the USGA GHIN handicap system must produce a copy of their current handicap card showing both index and date of revision to the MGA office.
All players (unless exempt- see list below) must qualify at one of the local qualifiers in their area.
QUALIFYING DATES AND SITES
Deadline to register is 7 days prior to event date. A late fee of $50 will be accessed for all late entries.
May 28
The Falls GC
O'Fallon
June 3
Oakwood CC
Kansas City
June 3

Twin Oaks CC
Springfield
June 5
Dalhousie GC
Cape Girardeau
June 7
CC of MO
Columbia
June 11

Oak Meadow CC
Rolla

This qualifier is for those players that missed the cut in an earlier qualifier
MEMBERSHIP/ENTRY FEE
Membership $35
Entry fees:
Qualifying Round fee: $150
Last Chance Qualifier additional fee: $65
Exempt Players $150
Late Fee $50 will be assessed for all late entries.
Qualifying Transfers may not be allowed after pairings are set for the qualifier.
REFUNDS
Cancellations before the close of entries will be refunded less a $30 fee. There are no refunds after the deadline date.
CADDIES/CARTS
Caddies are allowed during all portions of the Championship.
Each player may walk or ride during any portion of the Championship.
Qualifying Exemptions
The following players are EXEMPT from qualifying for the 2019 MGA Missouri Amateur.
All exempt players please register to compete by June 1.
1) All former Missouri Amateur Champions. Click here to view
2) Top 12 players from 2018 MGA Amateur Player of the Year Point list: Brad Nurski, Chris Obert, Skip Berkmeyer, Chad Niezing, Tyler Stalker, Chris Ferris, John Fuchs, Brevin Giebler, Brooks Jungbluth, Sam Migdal, Matt Echelmeier and Pat Britt.
3) All 2018 MGA individual Male Champions:
Junior Amateur – Hank Lierz, St. Joseph
Junior Match Play – Ross Steelman, Columbia
Amateur – Brad Nurski, St. Joseph
Stroke Play – Christopher Obert, Springfield
Senior Amateur – Wayne Fredrick, Springfield
Mid Amateur – Adam Pfeiffer, Quincy, IL
4) Prior Year MGA Senior Player of the Year – Steve Groom 2018
All exempt players please register to compete by June 1
PRIZES –
Champion – Silver and the Traveling Trophy for one year.
Runner Up & Semi Finalists – Silver
Lowest Qualifying Score – Silver
Match Play field – Money Clip
SCHEDULE
Competition will be in two stages:
1. QUALIFYING ROUNDS – 18 hole stroke play.
2. CHAMPIONSHIP ROUNDS – 144 qualifiers including exemptions.
(A) STROKE PLAY – 36 holes stroke play to determine 64 players for match play. A tie for 64th place shall be decided immediately by a hole-by-hole play-off.
Monday – June 17
Practice Round – tee opens at 9 AM – 4 PM First come first serve
Tuesday – June 18
First qualifying round, 18 holes
Wednesday – June 19
Second qualifying round, 18 holes
Cut to 64
(B) MATCH PLAY – General numerical draw will be used. Players can ride in carts during Match Play.
Thursday – June 20
AM – Round of 64, 18 holes
Friday – June 21
AM – Round of 32, 18 holes
PM – Round of 16, 18 holes
Saturday – June 22
AM – Quarterfinal round, 18 holes
PM – Semifinal round, 18 hole
Sunday – June 23
Final, 36 holes