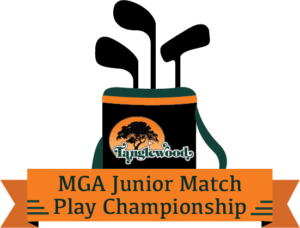 19th Annual Junior Match Play Championship
June 10-13, 2019
Tanglewood Golf Course
818 Golf Dr.
Fulton, MO 65251
573-642-7277
Event Details
ELIGIBILITY
All competitors male and female ages 14 – 18. Participants that have competed on the college level or attended college are not eligible.
MEMBERSHIP / ENTRY FEE
Yearly membership fee is $0
Each event is $70
REFUND
Entry fees are non refundable
LATE FEE
The deadline to enter event is noted on the Schedule of Events. There is a $20 late fee if space is available.
ENTRY FEE INCLUDES
Practice Round, Championship Rounds and Range Balls
DIVISIONS
Male and female golfers will be competing in their own divisions.
14-18 Girls 5000 yards
14-18 Boys 6200 yards
STROKE PLAY/Qualifying Rounds
Player can not have a caddie or use a cart during Stroke Play/Qualifying round
MATCH PLAY PORTION
Player (16+) can use a Cart during the Match Play portion
Player may have a caddie during the Match Play portion
Please familiarize yourself with MGA Conditions of Play.
Schedule
(All information subject to change.)
The field will consist of first 144 players.
Sunday – June 9
Practice Round
Monday – June 10
18 holes (Stroke Play) Both Male and Female
(A) STROKE PLAY –
Male: 18 holes stroke play to determine 32 players for match play. A tie for 32nd place shall be decided immediately by a hole-by-hole play-off. Cut to 32.
Female: All players in this flight will compete for seed in Match Play round.
(B) MATCH PLAY General numerical draw will be used.
Tuesday – June 11 (36 holes)
AM –boys and girls
PM –boys and girls
Wednesday – June 12 (36 holes)
AM – boys and girls
PM – boys
Thursday – June 13 Final 18 hole matches
Championship Match
AM 18 holes – boys and girls