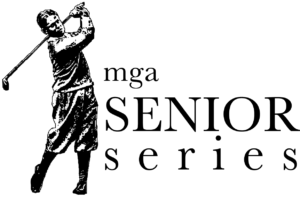 "The Senior series events are awesome. Great guys!! Been great meeting different people "
Sean McQueary, Springfield
MGA SENIOR SERIES TOUR
August 5, 2020
The Missouri Golf Association is wrapping up the 2020 SS Tour Season.
ELIGIBILITY All competitors must be a member of the MGA SS Tour, male age 50 or older, and you must have a current USGA Handicap Index with a MGA Member Club.
The 137 Senior Series members accumulate points based on how they finished in each event for a chance to compete at the Tour Championship at Meadow Lake Acres CC (MLACC) in New Bloomfield on September 29th and 30th. The top 10 players in each division are invited to compete at MLACC for an invitation to play against the Kansas Senior Series Tour at Twin Hills CC in Joplin on October 14-15.
We want to sincerely thank all the SS Tour Members for a great year and we hope that you enjoyed it enough to join us in 2021!
With four events remaining in the 2020 SS season, the top 2 division point leaders are:
50-54 net, Tim Burman (Kingdom City) and Eric Austin (Battlefield)
50-54 open, Scott Horton (Ballwin) and Jeff Ryan (Half Way)
55-59 net, Roy Roberts (Ballwin) and Rodger Robbins (St. Louis)
55-59 open David Rudd (Wildwood) and David Pfeil (Eureka)
60-64 net Terry Farmer (Warrensburg) and George Barkho (Fulton)
60-64 open Mike Heim (St. Joseph) and Bill Anderson (Bill Anderson)
65-69 net David Samp (Moberly) and Bob Rugen (Fulton)
65-69 open, David Lucks (St. Louis) and Ron Eilers (Columbia)
70 and over net Deric Elwell (Warrenburg) and Dick Halterman (Weldon Spring)
70 and over open, Robert Trittler (Wentzville) and William Wunderlich (High Ridge)
We also want to thank all the MGA member clubs across the State that are always so accommodating to our Tour!
The 2020 season included rounds at Glen Echo GC, Gateway National GC, Dalhousie GC, Sedalia CC, Mules National GC, The Club at Porto Cima, Lake Valley GC, Jefferson City CC, Tanglewood GC and Old Kinderhook GC!! Thank you!
Click here to view the points table by Division
If you are 50 and over you are more than welcome to join us in 2021. Membership is $65 and most events are $85. Awards are pro shop gift cards in each age division.