Missouri Sports Hall of Fame to induct
Golf's Stephany Jackson Powell, Sonnie Dooley,
Coach Francie McBride & Winona H.S. Volleyball,
Alma's Santa Fe H.S. Volleyball & Girls Track,
Logan-Rogersville H.S. Girls Cross Country,
Missouri State University Women's Handball
Women's Sports Luncheon presented by Bee Payne-Stewart Foundation set for April 9;
Hall of Fame also to honor KOLR 10's Leo Henning & Wynn Awards
We would like to congratulate Stephany for an honor well deserved. We would like to expand on her bio below. Stephany has been a long time supporter of Women's golf under the Missouri Women's GA now the Missouri Golf Association (MGA). Powell volunteers as a member of the MGA Board of Directors, MGA events, she is the director of Women's Fore State and a rules official for the Missouri State High School Activities Association (MSHSAA). She is a champion of women's golf in the State! We are so lucky to have her on our team.
Powell is in great company in the Hall of Fame; Payne Stewart, Ken Lanning, Tom Watson, Horton Smith, Hale Irwin and many more.
Stephany Jackson Powell – Golf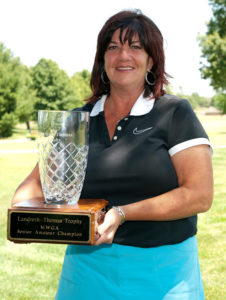 Pictured above with her 2012 Senior Amateur Champion trophy.
Missouri Sports Hall of Fame bio:
Powell, who grew up playing golf at Hickory Hills Country Club with Payne Stewart, graduated in 1979 from Glendale High School after helping the Lady Falcons win the first two of their three consecutive state championships (1977, 1978). She then played at Stephens College before going on to memorable finishes in the Missouri Women's Amateur and winning a Missouri Senior Championship. At Glendale, Powell placed fourth in the 1976 state meet, and then tied for fourth in 1977 and placed third in 1978. She went on to become a four-time runner-up at the Missouri Women's Amateur and a three-time runner-up at the Missouri Girls Junior. She also qualified for a pair of U.S. Women's Mid-Amateurs in the late 1980s. She won the Missouri Women's Senior Amateur in 2012. Additionally, Powell coached the Missouri State University women's golf team from 1993 to 2002, with the 2001 team winning the Missouri Valley Conference a year after placing second. She also has been an honorary life member of the Missouri Women's Golf Association, in which she has served in a variety of roles, including vice president. Powell also has been inducted into the Ozarks Golf Hall of Fame.
A sponsorship table of eight is $400 and includes recognition in the printed program, at the table and an luncheon poster of individual inductees. A head table ticket is $100. An individual ticket is $50 in advance, or $60 at the door. Numerous sponsorships are available, including congratulatory ads. Call 417-880-3300.