Missouri Golf Association
Hall of Fame Induction Ceremony
Karen Schull MacGee
November 9, 2019, Mission Hills CC,
Mission Hills, Kansas
The Missouri Golf Association celebrated the induction of Karen Schull MacGee into the MGA Hall of Fame on Saturday, November 9, 2019 with her family and friends at the Mission Hills CC.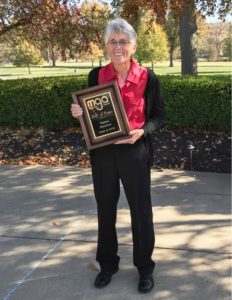 Karen Schull MacGee began her golf career at Armour Fields Golf Course. In 1951 at age 12, Marian Gault saw her hitting balls at Smiley's and asked her to join the Kansas City junior program. That led to her parents joining Blue Hills, which led to her taking lessons from the great Duke Gibson. Karen is a 1957 graduate of Southwest High School and the University of Kansas in 1961. Competing for Kansas she was runner-up in the Women's Intercollegiate (forerunner to the NCAA). That same year she made the quarterfinals of the US Women's Amateur. She won four Missouri Amateurs in the 1960s and three more in the 1970s. Also in the 1970s Karen won five Kansas Amateurs. Retiring from competitive golf in 1980, she received her nursing degree and worked in the cardiac intensive care unit of a Kansas City hospital. She was used to pressure situations.
Please read her astounding golf resume here.