Wayne Fredrick, Springfield
MGA Senior Men Player of the Year, 2019
Missouri Senior Amateur………………………………. Champion (71-66 – 137)
Hoover Ozark Senior…………………………………….. 3rd (71-73 – 144)
Missouri Amateur (qualifying)………………………. (74-76 – 150)
Missouri Amateur (match play)…………………….. 1st round
Missouri Senior 4-Ball (with Scott Whittaker)………. 6th (68-68 – 136)
USGA Senior Amateur (St. Louis qualifying)… (70)
USGA Senior Amateur (Durham, NC, qual.)… (74-76 – 150)
USGA Senior Amateur (match play)……………… 1st round
_______________________________
At age 57, Wayne added to his stellar golf
career, amending the "quadrilateral" he won
last year by winning the 2019 Missouri Senior
Amateur at Lake Forest CC in September. His
"quadrilateral": the 1996 Missouri Amateur,
the 2001 Stroke-Play, the 2007 Mid-Amateur
and the 2018 & 2019 Senior Amateurs.
In addition to the quadrilateral, Wayne
was medalist at the 2015 Missouri Amateur,
and he and Kory Bowman partnered up to win
the 2014 Missouri Four-Ball.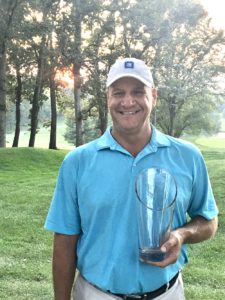 Ellen Port, St Louis
MGA Senior Women Player of the Year, 2019
2019 Record
Missouri Women's Amateur………4th (78-73-73 – 224)
Missouri Women's Mid-Am………2nd (78-73-73 – 224
USGA Women's Mid-Am………….2nd round (71-79 – 150)
USGA Women's Senior Am………2nd (71-74 – 145)
USGA Women's Senior Am ……..2nd round
USGA Women's Senior Open……Made Cut (80-77-73-80 – 310)
____________________________
This was an unusual year for Ellen in that she
did not win a state or national championship. Most
players would be pleased with the year she did have:
a 4th and a 2nd in Missouri events and a 2nd at the
US Women's Senior Am. She also made the cut at
the US Women's Senior Open, competing with the
world's best women amateurs and pros.
To put all this in perspective, Ellen has won
nine Missouri Women's Amateurs, four US Women's
Mid-Amateurs and three US Women's Senior Amateurs.
Competitor that she is, 2020 will very likely
be a year to get back to adding championships to her
resume.