Case Englehart, Jackson
MGA Junior Boys Player of the Year, 2019
2019 Record
Missouri Amateur Qualifier……………………. 11th (80)
Missouri Amateur (qualifying)……………….. 39th (77-73 – 150)
Missouri Amateur (match play)……………… 2nd Round
USGA Amateur qualifying (Normal, Ill)… 68-70 – 138
USGA Amateur (Pinehurst)…………………… 73-85 – 158
Missouri Junior Amateur……………………….. 8th (70-74 – 144)
Missouri Junior Match Play……………………. Semifinals
Missouri High School District………………… 1st 70
Missouri High School Sectional……………… 1st 65
Missouri High School State…………………….. 7th 74-76 – 150
___________________________
Case started off his 2019 golf season by being part of the Missouri state high school championship
team from Jackson. That was followed up with the Missouri Amateur at Hickory Hills in Springfield,
where he made match play and won a match. He next played in the Missouri Junior in
July finishing in 8th place at Mules National in Warrensburg. He finished off the summer in style
by qualifying for the US Amateur, which was played at Pinehurst, NC. Case now is playing on the U. of Arkansas,
Ft. Smith golf team.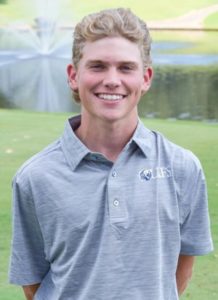 Audrey Rischer, Columbia
MGA Junior Girls Player of the Year, 2019
2019 Record
Missouri Girls Junior Match Play………………..Champion
Missouri Girls Junior Match Play………………..Medalist (77)
Missouri Girls Junior Amateur (age 14-15)…….3rd (74-83 – 157)
Missouri Junior Tour (Lake of the Woods)….1st (39)
Missouri Junior Tour (Redfield)………………….1st (79)
______________________________
Having been POY in 2017 as a 9 year
old, Audrey won her second Player of the Year
in 2019. In June, just before turning 14 she
won the Jr. Match Play at Tanglewood. Audrey
finished 3rd at the Junior Amateur in July as she
"birthdayed up" to the 14-15 age group.
Two wins on the MJT solidified her place
on the Missouri Southern Junior Cup Team that
traveled to Alabama.
Audrey is in 8th grade and plans to attend
Father Tolton Catholic in Columbia in the fall
of 2020.