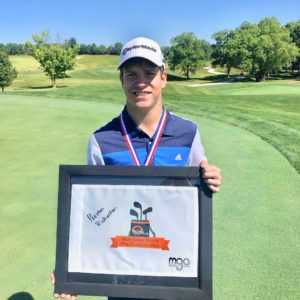 Presten Richardson, Miller, MO wins 6&5 against Trey Burton, Huntsville, MO
.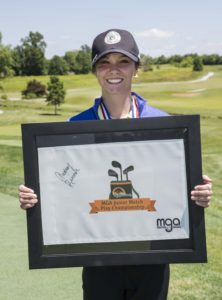 Audrey Rischer, Columbia, MO wins 19 holes against Sydney Willingham, Columbia, MO
.

19th Annual Junior Match Play Championship
June 10-13, 2019
Tanglewood Golf Course
818 Golf Dr.
Fulton, MO 65251
FOLLOW THIS LINK FOR TEE TIMES AND MATCH PAIRINGS
Monday – June 10
18 holes (Stroke Play) Both Male and Female
(A) STROKE PLAY –
Male: 18 holes stroke play to determine 32 players for match play. A tie for 32nd place shall be decided immediately by a hole-by-hole play-off. Cut to 32.
Female: All players in this flight will compete for seed in Match Play round.
(B) MATCH PLAY General numerical draw will be used.
Tuesday – June 11 (36 holes)
AM –boys and girls
PM –boys and girls
Wednesday – June 12 (36 holes)
AM – boys and girls
PM – boys
Thursday – June 13 Final 18 hole matches
Championship Match
AM 18 holes – boys and girls