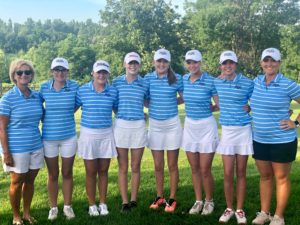 TEAM MISSOURI
Greta Hinds, Kassidy Hull, Kaydi Rhodes, Audry Rischer, Sami Swinfard and Sydney Willingham
Six players from around the State will be heading to Nebraska City, Nebraska for the Junior Girls Four State Championship June 30-July 2. They will be playing at Arbor Links GC. The ladies will be defending their team title this year after their win in 2018 over Kansas, Nebraska and Iowa!
This years format will be different. They will be playing a Match Play format with a Solheim Cup like tournament where each team would earn points for matches won.
Sunday, June 30
1-2 pm – Practice Rounds
Monday, July 1
AM – Foursomes Matches
PM – Four-Ball Matches
Tuesday, July 2
AM – Singles Matches
Missouri Team Captain Katrina Clark, Ballwin
History: The Four-State Junior Girls Championship began in 1969, as a one-day stroke play tournament. The team entry fee at that time was $10.00. In 1980 the tournament changed to a two-day stroke play tournament with the medalist being determined on the first day's score. The entry fee was raised to $15.00. The date of the tournament had been just prior to or immediately following the 4th of July. Each team consisted of four girls, one alternate and coach or coaches. The four low scores of each team were added each day and totaled after the second day to determine the winner. In 1989 at the coaches' meeting at Leawood South Country Club, it was voted to raise the entry fee to $30.00. The entry fee buys the awards for the five girls on the winning team and the award for the medalist. These are engraved by the host state. At the 1991 Four-State coaches meeting, it was voted to change the format for the medalist; instead of the medalist being the first day's low score, the medalist now will be the two days' total low score. It was, also, agreed that tournament sites should be as close to the intersecting corners of the four states as possible.
Today: The Four State Junior Girls Championship is composed of a golf team from Kansas, Nebraska, Iowa and Missouri. The method of choosing teams is strictly up to the individual states as tournaments vary. Each team consists of six girls, and coach or coaches from each state. A new format will be introduced in 2019, with teams expanding to six players and the form of play changing to match play over three rounds (Foursomes, Four-Ball and Singles)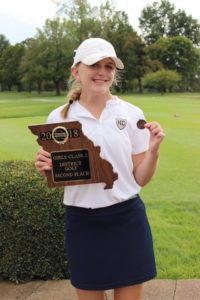 My name is Greta Hinds and I am from Jefferson City, Missouri. I will be a junior at Helias Catholic High School in the fall. I have played in tournaments with the MGA since I was twelve years old. I am also a part of the varsity girl's golf team at Helias. I have received all district honors and qualified for the state tournament. I have also helped my team take home the AAA Conference Team Title my freshman year and finish as the team runner-up in districts my sophomore year. I am very excited and humbled to receive the opportunity to play for Team Missouri in the Junior Girls Four State Tournament.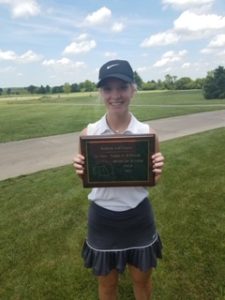 My name is Kassidy Hull and I am from Eldon, Missouri. I attend Eldon High School and will be a junior next year. I started golfing when I was about five, but didn't compete in L.O.J.G.A until I was nine. My freshman year I made it to state and placed twenty second. Then, my sophomore year, I placed first at conference and districts. Our team also won districts as a whole for the first time in our school's history. I placed second at sectionals then made it onto state where I placed seventh. I also competed in the Missouri Junior Amateur last summer and placed second. I also qualified to play in West Palm Beach for the Optimist International Tournament. I am excited to compete in the Junior Four State tournament. Thank you for this invitation!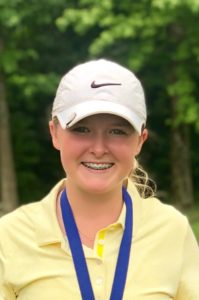 My name is Kaydi Rhodes and I am from Jackson, Missouri. I will be a sophomore at Jackson High School this year. My dad bought me my first set of clubs when I was five and I have been golfing with him and his buddies ever since. I started golfing in local Gateway PGA tournaments when I was nine. Last season as a Freshman, I led the Jackson Lady Indians golf team to its first win in program history. We had a great season winning every match and I was honored to receive medalist honors at 6 out of 7 of those matches. I recently played in the 2019 Missouri Junior Match Play Championship where I was a semi finalist. I love the game of golf with its challenges along with the satisfaction of trying to perform my best. I am excited and honored to be selected to represent Missouri in the Junior Four State Tournament. GO MISSOURI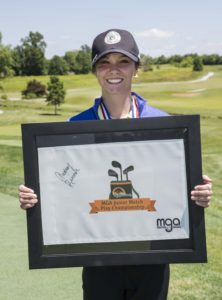 My name is Audrey Rischer. I am from Columbia, Missouri. I am fourteen years old and will be beginning my eighth grade year at Our Lady of Lourdes Interparish Catholic School. I began golfing when I was five. The first tournament I played in was with the L.O.J.G.A when I was ten years old. Some of my recent accomplishments include winning the 2019 Junior Match Play Championship, finishing first place at the 2018 and 2019 Pepsi Little People's Tournament, and finishing as the 2017 runner up and in 2018 with a third place finish at the U.S. Kids Midwest State Invitational. I also made it to the third round of the 2016 Drive, Chip, and Putt Championship. I finished as the champion in the 2018 Missouri Junior Amateur, was the 2017 MGA Player of the Year, and won the Mizzou Elite Players Camp Tournament of 2018. I am very delighted to be able to play in the Junior Girls Four State Tournament and am eagerly looking forward to it.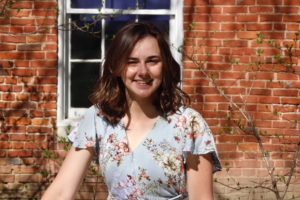 I am Sami Swinfard and I am from Jefferson City, Missouri. I just graduated from Jefferson City High School. I started golfing when I was a freshman. My first golf tournament was a high school tournament freshman year and I started playing MGA tournaments that summer. I was All District my junior and senior year. I placed third at districts and second at sectionals my senior year. I am very honored to play in the Junior Four State Tournament.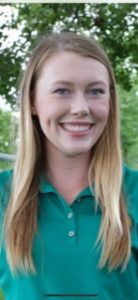 Hi, my name is Sydney Willingham and I am from Columbia, Missouri. I attend Rock Bridge High School and will be a Senior this coming school year. I did not start golfing until the summer before my freshman year. Since I was later to the sport than most of my peers I have put in a lot of time since then to catch up and improve my game. This will be my third year playing with the MGA. I have been to State with my team twice and last year we placed third. This year in the MGA Junior Match Play Championship I made it to the final round where I took my opponent to the 19th hole. I also volunteer at several youth golf camps in hopes to inspire the next generation of golfers to love the game as much as I do. I am extremely honored and excited to have been invited to play in Junior Four State Tournament.