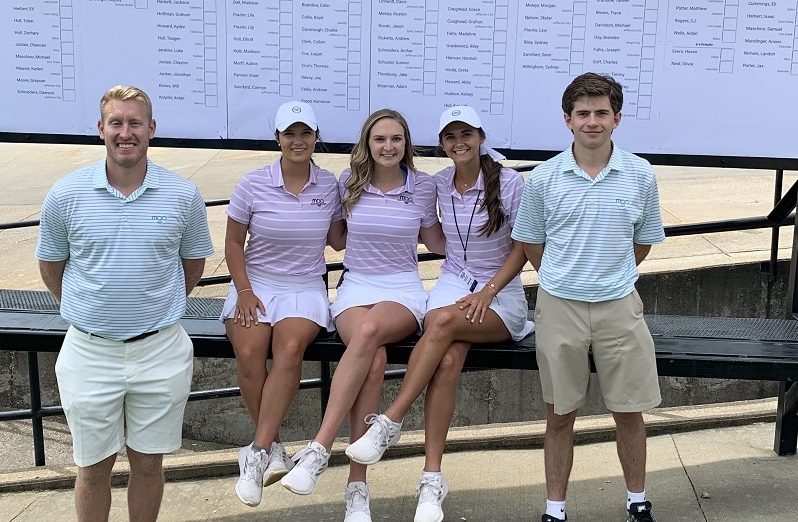 Welcome our 2019 MGA Interns
We can not say enough about the wonderful summer staff of the MGA! We could not offer the schedule that we do without their dedication! This group of individuals has shown to us that they are a GREAT TEAM.
The interns assist in the administration portion of the events, answering phone calls, marking the course, setting tees, hole locations, and getting everything ready for the tournaments from score cards to working with the Golf Professionals and much much more.
THANK YOU TEAM!
Will Echelmeier, Columbia
Will Echelmeier graduated Mizzou with his degree in Business – Finance. He also was a member of the men's golf team at Mizzou all four years and most recently has been a volunteer assistant for the Missouri State Men's Golf team. This will be Will's first year serving as the Director of Junior Golf. From the internship he hopes to teach and be a positive role model to junior golfers, while also learning more about the business side of golf.
Lauren Plunkett, Eugene
Lauren Plunkett is a junior at Drury University where she plans to major in Finance and Marketing as well as minor in Communication. She is a member of both the Women's Golf team and the Bass Fishing team at Drury. This is Lauren's third year as an intern with the Missouri Golf Association. This year she hopes to gain even more experience in the golf industry and business in general. Her favorite part of interning last year was the opportunity it provided to make meaningful connections and friendships with MGA's members and staff. She says, "Working for the MGA has an amazing experience. I look forward to another great summer and the opportunity to gain even more knowledge and put on the best events possible for our members!"
Claire Kehoe, Jefferson City
Claire Kehoe is currently a sophomore at the University of Arkansas where she plans to major in Business. Claire has been around golf though volunteering, playing high school golf, and staying active in the community. This is Claire's first year as a Boatwright Intern for the Missouri Golf Association. From the internship she hopes to gain experience in tournament management, build relationships with all the directors and players, and is excited to be a part of making the Missouri Golf Association a great success.
Jenna Kosmatka, Jefferson City
Jenna Kosmatka currently attends Missouri Western State University. She will be student teaching this fall, before graduating in December 2019 with her degree in Early Childhood Education and Business. Jenna has been around golf her whole life. Between going to the course with her dad to play, helping out with tournaments, hanging out with members, and playing both high school and collegiate golf. Jenna has also participated in the Missouri Golf Association tournaments since the age of 8, and is now overjoyed to be able to work these same tournaments. What she hopes to get out of the Boatwright Internship is experience while on the golf course and in the preparation and office setting. She states, "I have been provided the chance to develop working relationships with the MGA's members, tournament volunteers, directors, and club representatives. I hope to learn all that I can while making the best out of every second of it."
Sam Gunn, Kirkwood
Sam Gunn is from Kirkwood, MO and will be a junior at the University of Missouri in Columbia, MO. He is majoring in Parks and recreation with an emphasis in sports management. Sam has grown up around sports. His dad has coached golf and basketball and Sam was always by his side. While he excelled at basketball in high school, he has always loved the game of golf and has been fortunate enough to attend several PGA championships and meet some of its best players. Sam is eager to learn all he can about the ins and outs of the Missouri Golf Association and contribute to its success this summer. Sam also says, "I am excited to be a part of the MGA team and thankful for the opportunity to gain valuable experience in the golf industry."