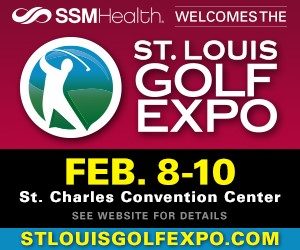 Adult: $14
Senior (60+): $12
Kids under 12: FREE!
Tickets will be available to purchase on-site. Cash only. ATMs available on-site.
St. Louis Golf Expo • Feb. 8-10 • St. Charles Convention Center
Heartland golfers, get a jump-start on the 2019 golf season when SSM Health welcomes the 10th Annual St. Louis Golf Expo, Feb. 8-10 at the St. Charles Convention Center. The St. Louis Golf Expo is the can't-miss event of the year for golfers in the St. Louis metropolitan area, giving golfers their first chance to see and swing the clubs which will be the talk of the golf world in 2019! Take advantage of the lowest prices of the year on name-brand clubs and equipment from the industry's leading manufacturers in the Pro-Am Golf Shop; test out all of the year's top new clubs on a free, indoor driving range lined with expert reps from the top brands in the game; compete in fun skills contests with unbelievable prizes; and enjoy free lessons from top pros, a fully-stocked 19th Hole lounge featuring beer and distillery tastings, plus special areas for kids, golf fitness and other exciting activities. In addition, a $14 ticket includes rounds of golf and more! For a complete list of hours, ticket prices, exhibitors and activities, visit www.stlgolfexpo.com.