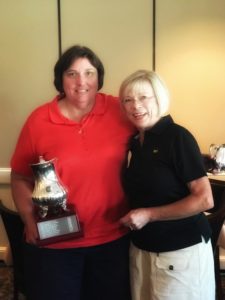 Cindy Hauter, St. Louis (l)and Nancy Sebastian, MGA Director
Award presentation by Nancy Sebastian
While we have new and exciting changes in ladies golf throughout the state, many of our traditions carry on. Since 1952, the Bernice Edlund award has be presented during one of the state championships to a female member of the Missouri Golf Association (formerly Missouri Women's Golf Association) who has set an ideal standard of conduct by her devotion to golf and demeanor on the golf course, who has promoted the aims of the association, observance of the rules and etiquette of the game while demonstrating a high degree of sportsmanship. It is my privilege as the most recent recipient to honor and present the award this year.
Click here to view past recipients
Your honoree this 2017-18 year for the Bernice Edlund Award started playing in the 1990's at the encouragement of a friend and coworker. She is truly representative of a woman who gave the game a try, liked it and then excelled. She developed her skills in golf and also built new friendships through the game. She always played with a smile and a positive attitude and encouraged all who played with her to be the best they could be on and off the course.
She is welcoming and demonstrates a wonderful ability to put her other competitors at ease. She is the poster child of just the type of player the USGA spends so much money recruiting into the game…those independent women who just need to give golf a try and once they do develop into great ambassadors of the game.
Having played varsity basketball in college and being a natural athlete, she quickly became a "golf" competitor. She not only has and continues to play in state events but several United States Golf Association events as well and including the U.S Publinks qualifiers.
In 2009 our honoree won the Open Division of the Ladies Amateur, soon to be renamed the "Mid-Amateur Championship." Our honoree possesses determination, courage, patience and perseverance. She is a terrific competitor and partner. She continuously supports her state association in a positive way including playing in almost every Scramble and various other championships as allowed by her hectic work schedule and time.
She is a favorite partner for many as she has such an infectious laugh and positive attitude about her game and of all those around her. There is always a joke while you were waiting to hit, or a great big laugh and high five when you hit a good shot when paired with her.
I have a very dear friend who told me she was paired with our recipient when she first joined the Missouri Women's Golf Association. This lady clearly feels it was because of our honoree she became active with the association and continued playing more events until retiring to Texas.
I would like to acknowledge and thank Ronnie Burg and Karen Johnson for their ideas and thoughts for this presentation today.
As one of our Edlund Award Committee Members simply stated, when I think of the Award and what it represents, I think of our honoree. It is fitting to present the Bernice Edlund Award today at our Ladies State Scramble Tournament, as the inaugural event held in 1999 at Lake Valley Golf & Country Club in Camdenton was won by 2002 Bernice Edlund recipient Ronnie Burg and her partner, this year's honoree, Cindy Hauter. And once again in 2018 we are all trying to win– over past champions Cindy Hauter and Ronnie Burg.
Congratulations Cindy, please join me for your award. My fellow competitors, Committee, Staff and Guests, please join me in honoring Cindy Hauter our 2017-18 Bernice Edlund Award Recipient.