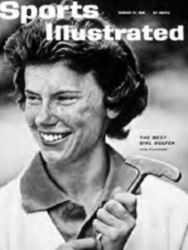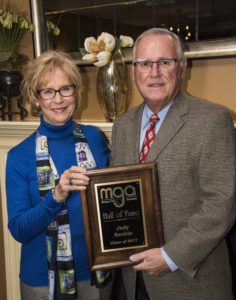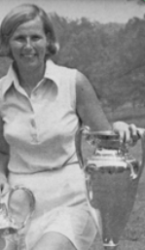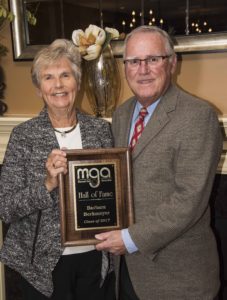 Barb Berkmeyer
January 2018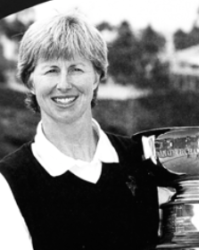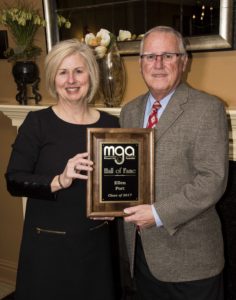 The MGA held its Hall of Fame celebration on Friday, January 19 at Meadowbrook Country Club in Ballwin, Missouri. 130 special guests joined us on this very special evening. The MGA also recognized the 2017 MGA Player's of the year.
We would be remiss if we didn't tell you we had three U.S. Cup Captains at the celebration. Jim Holtgrieve, 2014 MGA Hall of Fame inductee and 2011, 2013 Walker Cup Captain, Ellen Port, 2017 Hall of Fame Inductee and 2014 Curtis Cup Captain and Judy Rankin, 2017 Hall of Fame Inductee and  Solheim Cup Captain 1996 and 1998.
We are truly blessed to have such great people in Missouri that love the sport.
Hall of Fame Inductees
Missouri Golf Association
The Missouri Golf Association is delighted to announce the 2017 MGA Hall of Fame inductees.
This year, the Board of Directors, along with many friends and family, will be honoring three
players, including, Judy Rankin, Barbara Berkmeyer and Ellen Port.
Mrs. Judy Rankin of Midland, Texas (originally from St. Louis) won the Missouri Amateur
Championship when she was just 14-years-old and went on to win it again two years later. She
was low Amateur at the 1961 U.S. Open and turned pro a year later at age 17. Her first LPGA
win came in 1968. Throughout her career, Rankin won 26 events, finished top ten on the
money list eleven times and was the first to win over $100,000 in a season on the LPGA tour.
She earned LPGA Player of the Year twice (1976, 1977) and won the Vare Trophy for the lowest
scoring average three times. She went on to captain the Solheim Cup teams in 1996 and 1998.
Mrs. Rankin has been a golf commentator for ESPN and ABC. She became the lead LPGA analyst
for the Golf Channel and a professional advisor for the magazines Golf Digest and Golf for
Women.
Barbara Berkmeyer of Norwood Hills has had a remarkable golf career. Mrs. Berkmeyer won
her first Missouri Amateur Championship at Sunset Country Club in 1964 just before leaving
college. She went on to win the same championship four more times along with earning
runner-up another four times. Between 1965 and 1988, she was a medalist in the Missouri
Amateur 10 times. In 2000, she began her run of nine consecutive Missouri Senior Amateur
Championship titles and now holds a total of 13 distinguished Senior Amateur Championships
after this year's win. Barbara is the mother of Skip Berkmeyer who has won the Missouri
Amateur Championship three times and runner-up three times. Mrs. Berkmeyer was runner-up
in the USGA Women's Senior Amateur in 2002.
Ellent Port, from Fox Run Golf Club, did not take up the game of golf until she was 25-years-old.
She was a star basketball player for her high school and hit golf balls for her educational fitness
class while attending Mizzou. Within the first six years of playing golf, Mrs. Port won her first
Missouri Amateur Championship. Two years later (1994), she won the Trans-Miss. This was her
first national title. By 1996, she had won more national titles than state titles, and she went on
to win the Missouri Amateur Championship seven times in 15 years. In total, Port won nine
Missouri Women's Amateurs, seven USGA championship, four USGA Mid-Amateurs and two
USGA Senior Amateurs. Ellen played on two Curtis Cup teams and captained a third in 2014. She
now coaches the Washington University women's golf team.
This year's MGA Hall of Fame event will take place on January 19 at the Meadowbrook Country
Club in St. Louis. Congratulations to all three inductees on an extraordinary career. We
appreciate your dedication to the game!
At the Hall of Fame celebration we will also be recognizing the 2017 Scholarship Award winners of the Missouri Women's Education Association and the MGA Players of the Year.
The Missouri Golf Association is a non-profit organization whose purpose is to promote the best
interests and true spirit of the game of golf throughout the State of Missouri, including the Four
Ball Championship. The MGA conducts several statewide championships each year. The MGA
distributes an annual schedule of tournament events and entry forms for each event, provides
advice and information for golf, handicap and rules chairpersons, and provides educational
seminars.
If you would like to attend the celebration you can call the MGA office at 573-636-8994 or email Karen at kraithel@mogolf.org. Space is limited. Registration is $60 per person or a table of 10 $600.