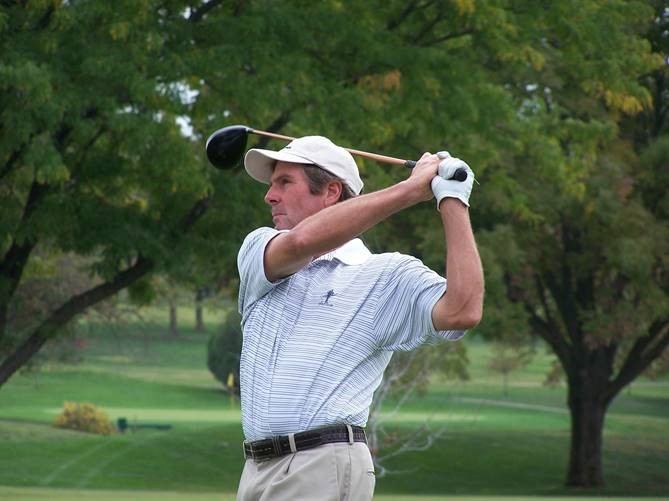 Steve Groom
The Missouri Golf Association is honored to announce this year's MGA Senior Player of the Year. This Player of the Year award is presented to an outstanding senior male golfer who has excelled on the course throughout the season. This year's Senior Amateur player of the Year is Steve Groom, Raytown.
This is the 10th year for Groom to reach this accomplishment.
Groom is a strong supporter of the MGA and competes in most of our events. He started the season by winning the MGA Senior Four Ball championship at Twin Oaks CC with his long time playing partner Mark Addington. As the 2017 Senior POY he is was exempt from qualifying for the MGA Amateur Championship, Dalhousie GC. At the Amateur this year, he made the cut (T21) and lost in the round of 64 (1 down) to 23 year old, Ryan Keller, St. Charles.
The MGA Stroke Play Championship was held at Millwood Golf & CC, Ozark. Groom had four great rounds to T6, 73/67/74/73 (287) just 8 shots out of the lead. He then went on to compete in the Mid-Amateur Championship at Jefferson City Country Club. In that event, Groom had the choice to compete with the younger guys or the older ones. Being very competitive, he chose the Mid-Amateur division and finished T13, 71/76 just 7 shots out of the lead.
Groom finished the season playing in the MGA Senior Amateur Championship at Westwood Hills CC in Poplar Bluff. Although he shot an impressive 1 under par for two rounds he still finished T5. However, we would be amiss if we didn't say the 2018 Senior Amateur Champion was Wayne Fredrick, Springfield who shot a very impressive 62/72 134, 8- under par!
Also counted in the MGA Player of the Year point system are three other outside events. At the Tom Hoover Invitational, Westwood Hills CC, Poplar Bluff and the Payne Stewart Invitational, Hickory Hills CC, Springfield he finished T2 and won Richard Poe Invitational at Gustin GC, Columbia.