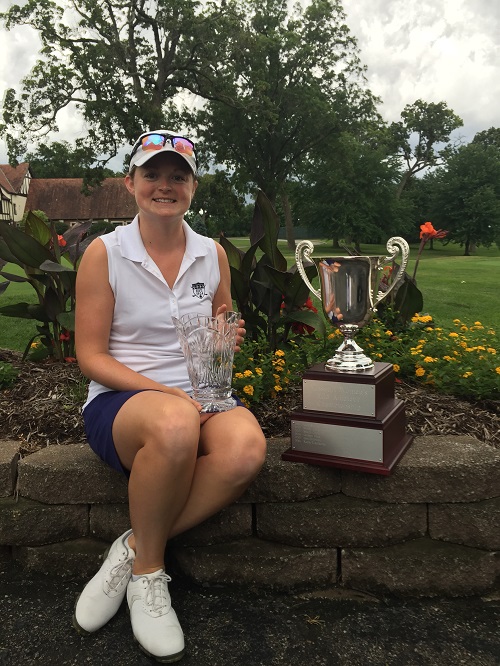 Kayla Eckelkamp
The Missouri Golf Association is honored to announce this year's MGA Women's Player of the Year. This Player of the Year award is presented to an outstanding female golfer who has excelled on the course throughout the season. This year's recipient is Kayla Eckelkamp of Washington and a member of the Franklin County Country Club. For the last 4 years, Eckelkamp has been named the MGA top female amateur in the state of Missouri.
When Kayla is not working her full time job at Mercy Hospital as an Intensive Care Nurse, she can be found competing against the guys at Franklin County or competing in MGA and USGA Amateur tournaments. She started the year by winning the MGA Mid-Amateur for a second time in three years (2016) at Glen Echo CC, St. Louis. She won in a playoff against the defending Mid-Amateur Champion Kathy Glennon. Eckelkamp finished in third place behind fellow competitors Kelly Osborne, Ballwin and Champion Emily Goldenstein, Chesterfield at the MGA Women's Amateur Championship, St. Joseph CC.
Probably the most exciting tournament of the season was when Eckelkamp qualified and got to compete on her home turf in the U.S. Women's Mid-Amateur at Norwood Hills CC in St. Louis! Eckelkamp qualified for match play in a playoff 7 players for 6 spots with a seed of 60. She started the match play rounds against Paige McCullough from Minnesota in the round of 64 and won 3 and 1. In the round of 32 she won in 19 holes over Caroline Ellington of North Carolina. Then she had to play fellow Missourian, Michelle Butler of Columbia. Butler won 4 and 3.
Kayla, we cannot wait to see what you accomplish in 2019! Thank you for playing in our events and we will see you on the first tee.