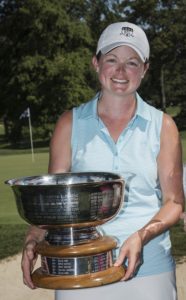 Woman's Player of the Year
Kayla Eckelkamp
Missouri Golf Association
Tuesday, December 5, 2017
For the third consecutive year, the Missouri Golf Association is pleased to congratulate
Kayla Eckelkamp as this year's MGA Women's Player of the Year. Eckelkamp is a
Washington, Missouri native and a member of the Franklin County Country Club.
Eckelkamp had an extremely rewarding season this year. "I had set goals for the year and
accomplished most of them," Eckelkamp said. "Being Player of the Year is an honor. There
are so many great players and ladies. To receive this honor is an accomplishment for me."
Eckelkamp met much success on the course. She was on the MGA Fore State team, a
member of the USGA Women's State Team, runner up for the MGA Women's Amateur
Championship and qualified for the U.S. Mid-Amateur Championship where she made the
cut and competed in Round of 64.
"A favorite tournament of mine each year is the Women's Fore State," Eckelkamp said. "Team
events are fun and the format is different than any other tournament I play. It was exciting to
have Missouri be the host state and the defending champs. The team played well and we
brought home another win."
"My most memorable moments from this season are winning Fore State and playing on the
USGA State Team and USGA Women's," Eckelkamp said. "I will cherish all of the friendships I
made this year."
Congratulations, Kayla and thank you for your commitment and dedication to the game!
The Missouri Golf Association is a non-profit organization whose purpose is to promote the
best interests and true spirit of the game of golf throughout the State of Missouri. The MGA
conducts several statewide championships each year. The MGA distributes an annual
schedule of tournament events and entry forms for each event. Provides advice and
information for golf, handicap and rules chairpersons, and provides educational seminars.
Missouri Golf Association
P.O. Box 104164
Jefferson City, MO 65110
(573) 636-8994
www.mogolf.org
mogolf@mogolf.org