MGA Men's Player of the Year
Sam Migdal
Missouri Golf Association
Monday, November 27, 2017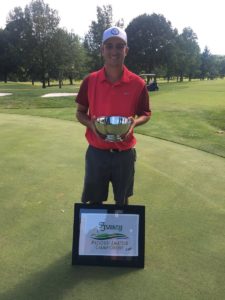 The Missouri Golf Association is excited to announce this year's MGA Men's Player of the
Year. This Player of the Year award is presented to an outstanding male golfer who has
excelled on the course throughout the season. This year's recipient is Sam Migdal of Ballwin
and member of the Aberdeen Golf Club. For many years, Migdal has proven he is a top
competitor in the state of Missouri, but this year he earned his spot as the Amateur Player
of the Year.
Migdal spent the majority of the summer on the course where he accomplished many
successes. He was the champion of the 2017 MGA Stroke Play Championship over Jeremy
Franklin at Winghaven Country Club in O'Fallon, and was a medalist at the MGA Amateur
Championship over Jim Siegfried at St. Joseph Country Club. He went on to earn runner-up
at the MGA Amateur Championship and was defeated by Brad Nurski.
Migdal qualified for this year's U.S. Amateur and competed in the second stage of the U.S.
Open. He also competed and accumulated points in the Stewart and Ozark Invitationals.
Congratulations Sam, and thank you for your commitment and dedication to the game!
The Missouri Golf Association is a non-profit organization whose purpose is to promote the
best interests and true spirit of the game of golf throughout the State of Missouri. The MGA
conducts several statewide championships each year. The MGA distributes an annual
schedule of tournament events and entry forms for each event. Provides advice and
information for golf, handicap and rules chairpersons, and provides educational seminars.
Missouri Golf Association
P.O. Box 104164
Jefferson City, MO 65110
(573) 636-8994
www.mogolf.org
mogolf@mogolf.org