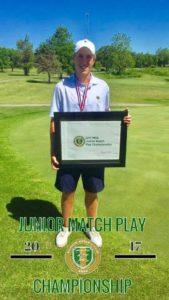 Junior Boy's Player of the Year
Hank Lierz
Missouri Golf Association
Monday, November 6, 2017
The Missouri Golf Association would like to congratulate Hank Lierz of St. Joseph,
Missouri, for earning the 2017 Junior Boy's Player of the Year award. Lierz is a junior at
Bishop LeBlond High School and a member of his high school golf team.
This summer, Lierz competed in many tournaments and met much success. He was the
champion of the MJGA Junior Match Play Championship in Eldon and qualified for the
MGA Amateur Championship in St. Joseph where he made it to the Round of 64. In
addition, he qualified for the U.S. Junior Amateur Championship in Kansas and missed
the cut by only one stroke.
"I had a couple of very memorable moments this past summer," Lierz said. "I was able
to play at my home course for the Missouri Amateur with my dad and brother Matt
both being able to caddy for me. That was a lot of fun."
"But my most memorable moment had to be the entire week of the U.S. Junior Amateur
where my brother was my caddy. The players felt like VIP with the meals, practice
facilities, volunteers and private locker rooms. It was truly a first-class experience. This
year's participation motivated me to want to get back and qualify for another Junior
Amateur next year."
Although the summer is over, Lierz will still be competing in many events. This past
weekend, he participated in the Golfweek Junior International Invitational (invite only)
at the Innsbrook Resort in Florida. Lierz will also be competing in the Optimist Junior
International Invitational, PGA National in West Palm Beach from November 11-12 and
the 87th Dixie Amateur, TPC Eagle Trace and Heron Bay, in Florida from December 18-22.
"It is a great honor to be selected for the Junior Boy's Player of the Year," Lierz said.
"There are a lot of very talented young golfers around the state of Missouri and I
couldn't be more thankful. This award motivated me to do even better next year and
moving forward in junior golf."
The Missouri Golf Association is a non-profit organization whose purpose is to promote the
best interests and true spirit of the game of golf throughout the State of Missouri. The MGA
conducts several statewide championships each year. The MGA distributes an annual
schedule of tournament events and entry forms for each event. Provides advice and
information for golf, handicap and rules chairpersons, and provides educational seminars.
Missouri Golf Association
P.O. Box 104164
Jefferson City, MO 65110
(573) 636-8994
www.mogolf.org
mogolf@mogolf.org