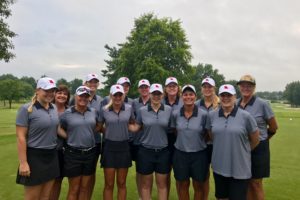 MISSOURI WINS!!!!
23rd Annual Fore State Team Championship
Missouri, Kansas, Oklahoma and Arkansas
August 1-2, 2017
Twin Hills Golf & Country Club
2019 S Country Club Dr
Joplin, MO 64804
417-624-1611
FINAL RESULTS
Missouri 17
Kansas 11.5
Arkansas 8
Oklahoma 11.5
Congratulations!!
2017 Fore State Missouri Team: Jess Meek, Columbia, Kayla Eckelkamp, Washington, Emily Goldenstein, Chesterfield, Chandler Gallagher, Kansas City, Olivia Sobaski, Sedalia and Logan Otter, St Peters. Mid-Amateur Kathy Glennon, St. Albans, Dee Johnson, Perryville, Stephany Powell, Springfield, Pam Simpson, Kansas City, Diane Chancellor, St. Albans and Janis Clemons, Sedalia.
Missouri Team Captain is Kelly Osborne, Ballwin and Rules Official is Mike Goodwin, Springfield
The Fore State Team Championship was established in 1995 to promote a friendly rivalry among amateur women golfers from the four border states of Arkansas, Kansas, Missouri and Oklahoma. The competition is held annually in August with each state taking their turn to host the event. The rotation schedule is Kansas 2016, Missouri 2017, Oklahoma 2018 and Arkansas 2019…READ MORE
Article Written by Warren Mays, News Magazine Network