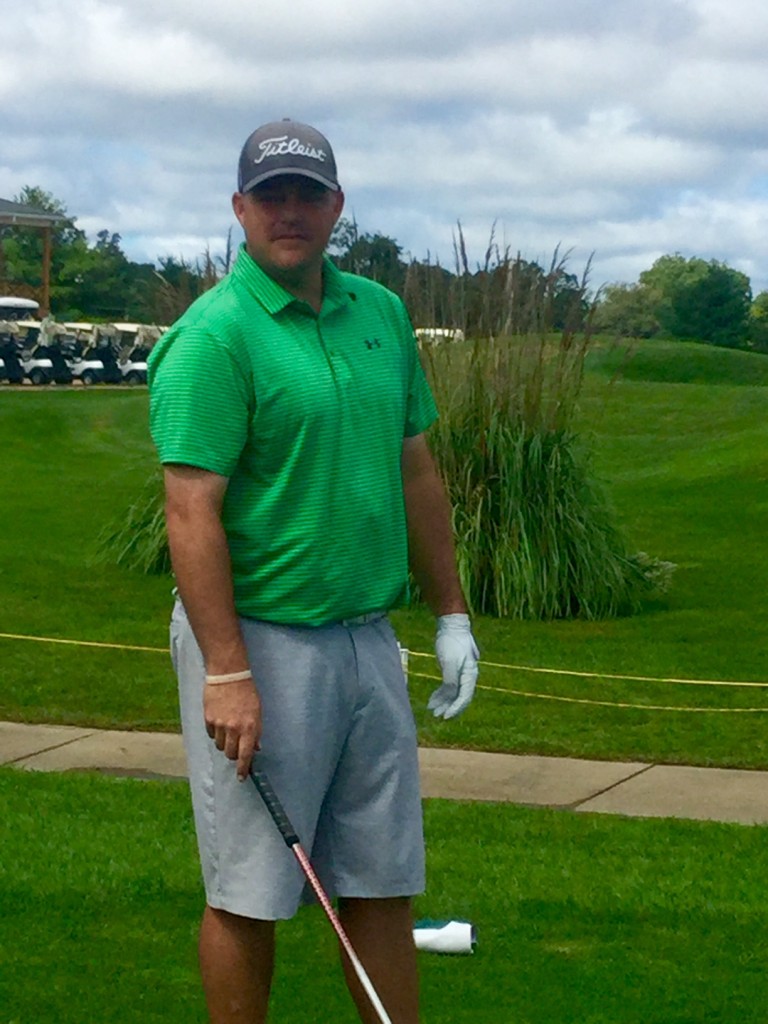 Chad Niezing, Manchester wins the 2016 MGA Mid-Amateur Championship at Crown Pointe Golf Club in Farmington, MO. Niezing had just returned home from reaching the round of 32 at the U.S. Mid-Amateur Championship in Stonewall, Elverson, Pa., before heading down to Farmington.
Course Set up was Gold tees at 6775 yards par 72
The practice round was rained out for most of the competitors because of a rain storm that dumped over 4″ of rain on the course Friday afternoon. The decision was made to delay the start times for the first round on Saturday by 2 hours to give the grounds crew time to take care of the course.  They did a superb job, the course drained really well and was ready for play at 10 AM. The players were so impressed with the condition and the quality of the golf course and are looking forward to the return.  Crown Pointe which is just 30 minutes from St Louis is a hidden gem and we strongly encourage all of our members to take the trip to play a round. They also have lodging onsite for the players.
Niezing had a very impressive round 1 he had 3 birdies and 2 bogeys on hole 2 and 9 on the front 9 but finished his round by birdying 6 of his last 9 holes on the back. Chad finished with a 65 (7 under par). Coming in behind him, just 3 shots back and playing in his first Mid-Amateur since just turning 25 in May, Alex Cusumano of St Louis. Brian Haskell, St. Joseph,2 time Mid-Amateur Champion, (2008, 2009)who just turned 50 in May was 4 just strokes back!
We thought we were going to have to delay the start of Round 2 because of the very dense fog in the morning but the skies cleared and we were able to start on time.
As we were all watching the scores there was definitely players that were trying to catch Niezing.  Tony Gumper of St. Charles, had a great round 2 carding a 5 under 67 after a first round of 1 under. Harry Roberts, St. Joseph, Brevin Giebler, Cape Girardeau and Phil Caravia, St.Louis all shot a 4 under on their second rounds but couldn't quit catch Niezing.
Giebler had 7 birdies, 1 bogey and one double bogey on the par 5 15 to finish tied for 2nd with Tony Gumper.  Gumper had an eagle on par 5 hole 11, 4 birdies and one bogey on hole 3.
Niezing on his second round, started off his front nine by birding hole 1 and 2, 5 and 7, bogeyed 3 and 8, and parred 4, 6, and 9. The back nine he had a par on every hole but hole 13. Chad won the Mid-Amateur with a 36 hole total of 8 under par. 65/71 136.